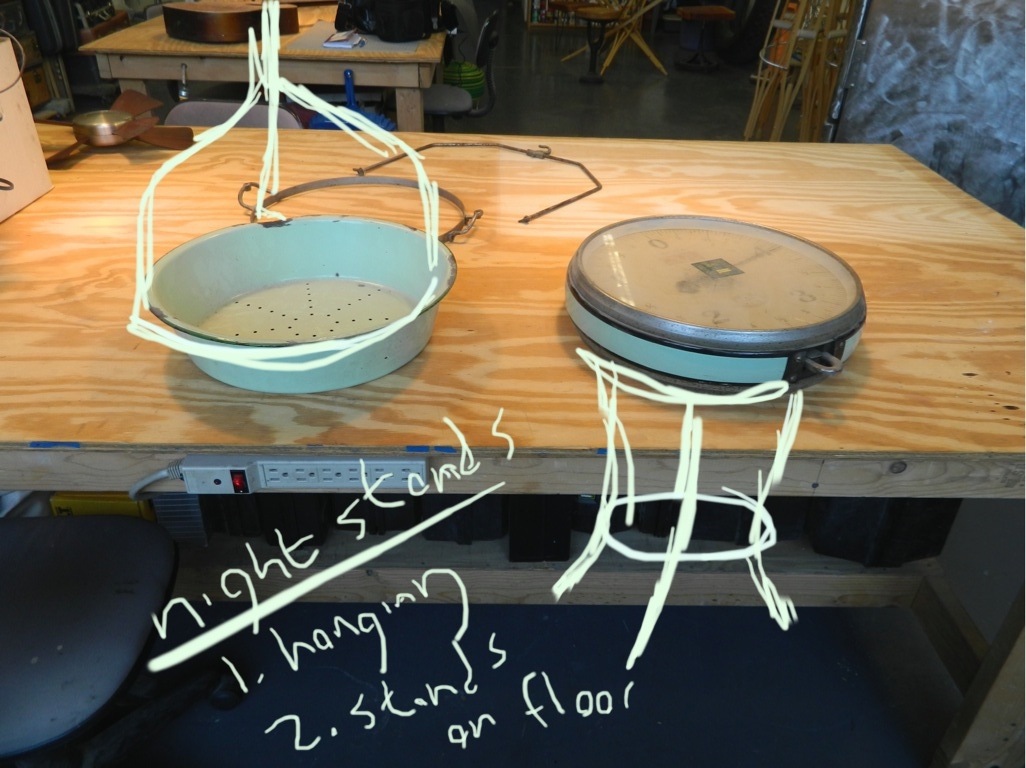 Wooden Propellor Blade
I'm pretty sure this piece is destined to be a ceiling fan or table when combined with other pieces.
Canoe / Kayak Boat Frame
This will be a chandelier with gorgeous long tube bulbs jetting through it. I see suspending it over a bar inside a sheer stretching netting — talk about conversation piece!
Sulky (Jockey Cart) Vanity Table
Just imagine the drama of the beauty salon that places this piece as its main station mirror and table. Already in development.
Hair Permanent Machine
Insanity! Insanity, and definitely a conversation piece. Dating back to when ELECTRICITY was used to set a perm. Yikes! It is in development now to become a very industrial chandelier.
Old vacuum cleaner
I hunt for these items like this all the time. This one will likely become a wall sconce or prominent pendant lamp. I'm seeing it as a pendant at a restaurant's reservation podium.
Unknown Glass Factory Tanks
These babies are slated to become hanging fixtures. What I haven't yet decided is whether they should hang vertically as two pendant chandeliers, or horizontally over a bar or two. These are gorgeous items. Gorgeous.
Wooden Iron Molds From Pittsburgh Steel industry
On a trip back home I connected with a cousin who took me to a Pittsburgh neighborhood's brilliant yard sale. These molds came from a man who collected them from relative who worked in one of the big steel factories. These are likely to become industrial chandeliers.
Coke bottles
I found a wooden Coke crate containing every single original bottle. These will make a gorgeous shimmery chandelier.
"E" Signage
I snagged two of these, which I've slated to become two hanging fixtures. Anybody have a company they're launching that begins with the letter "E"?
rusty broken scale
After I add a white glass globe on top, this belongs at the back of a bar or on top of a column. Hunting for more now.
White Wheels
Two handsome wheels will become wall sconces with an industrial, contemporary feel. The white tire is a great bonus.
Glass Pharmaceutical Bottles
These will make beautiful small pendants hanging over a bar. Gorgeous.
Diner Check Holder
This will make a contemporary and fun pendant chandelier when the right material is added to it and treated like guest checks you'd see in a restaurant's kitchen.
Bicycle Tires
I have a giant pile of these that just need some figuring out.
Traffic Lights
I have two of these beauties. Both will turn into hanging fixtures perfect for over a couple of pool tables or a bar.
WW2 Artillery Shell Holder
I had to buy this when I found out what it was. This is likely to become a small coffee table, but I find myself wanting to see light through it.
Old Boxing Gloves
These are so packed with character and life I just had to grab them. I haven't worked it out yet, but am imagining a wall sconce.
Chinese Checker Table
I have two of these and they will be combined to become a small coffee table or side table.
Bird Cage On Floor Stand
I see a floor lamp just waiting for me to get my hands on it.
Bed Pan & Male Urinal
These were too great to pass up. The utterly perfect desk lamp for your favorite urologist's front desk.
Childs Bouncy Horse
This is clearly destined to be a dynamic memorable chandelier hitting all kinds of notes from childhood for many.
Large Light Bulbs
These 12" bulbs still work and could make gorgeous pendant lamps.
Victorian Dress Form
When I found this in Hudson, NY, I had to grab it. I've never seen a waist so pulled in, and it will make a brilliant floor lamp or chandelier.
Queen Size Bed Springs
This will make the frame for a very large industrial chandelier. Would be brilliant and memorable in an office building lobby or hotel lobby.
Broken Guitar
I have a couple of these that I'm in the process of being repairing and fitting out to be blue tooth speakers. Would be great fun in a small cafe.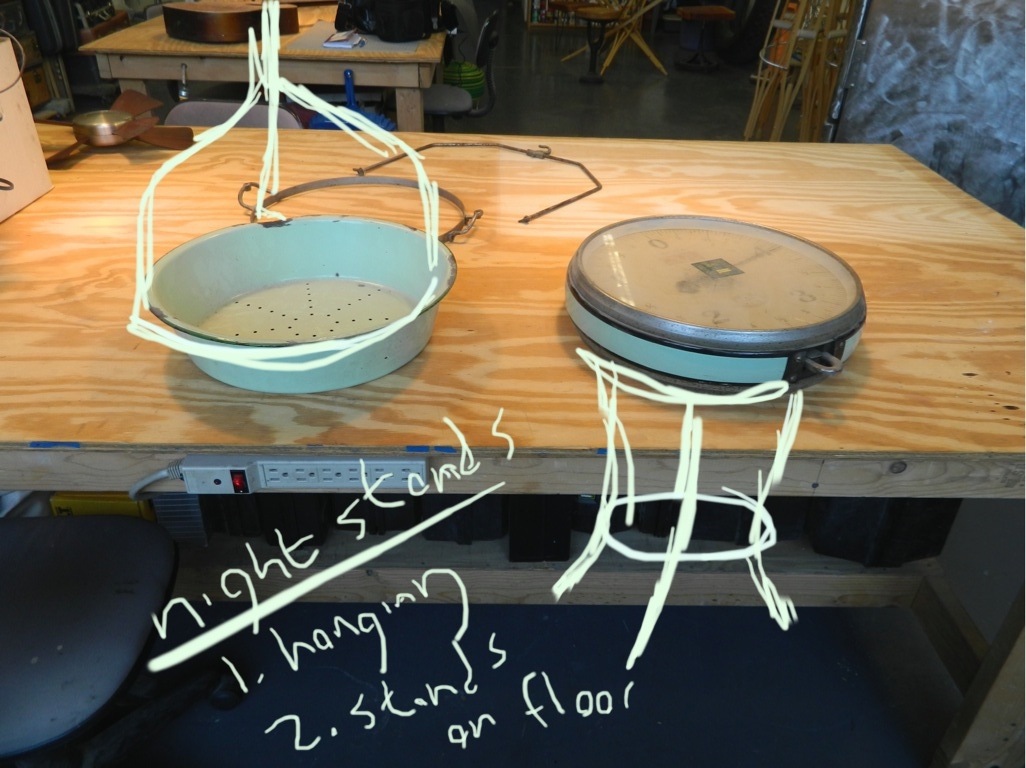 Grocery Store Scale Side tables
Using this one grocery store stand, I can create two end tables or display stands. Would be perfect in a couple smaller windows beside each other.